First Birthday Photography Session (with cake smash!)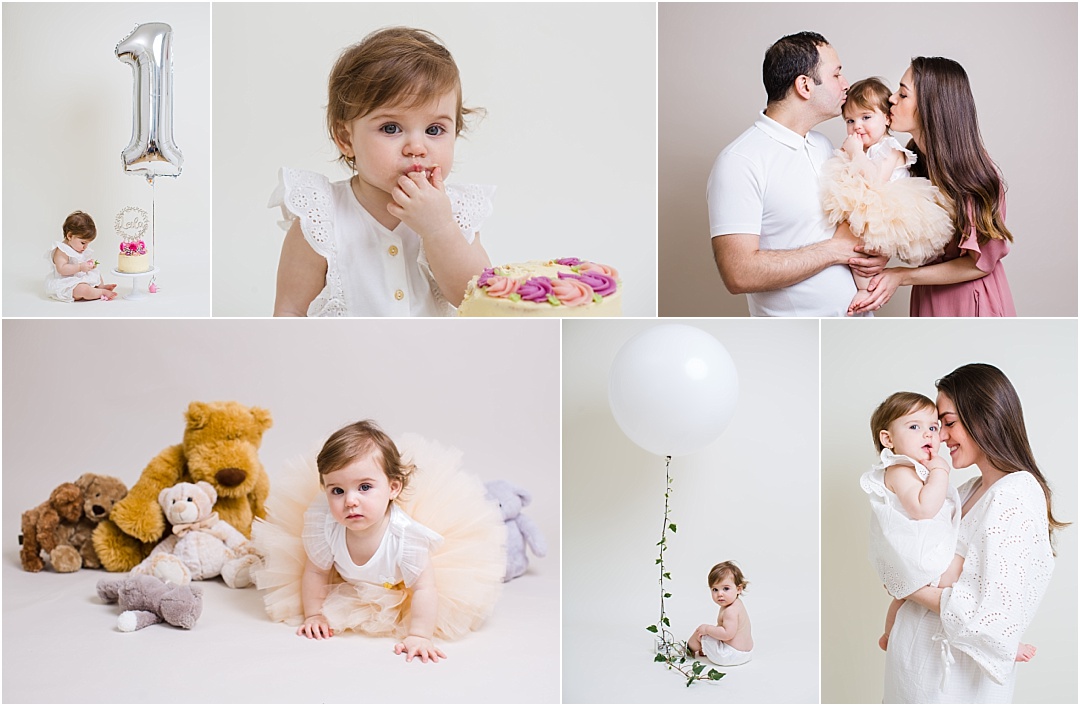 The first year of a baby's arrival is an exhilarating one for the parents. You witness the magic of a newborn growing from the size of your palm into a toddler and developing his / her own character. You catch your baby's first smile, his / her first rollover, first sit-up and maybe first step. Your heart is filled with wonders by the time they reach the milestone of one year old.
Having a first birthday photography session is a perfect way to mark and celebrate this milestone, capturing this very unforgettable stage in the child's and the parents' lives.
I had Leila in my studio for her first birthday, after meeting her for the first time in her newborn shoot. We had her older brother in the studio before for a toddler shoot also! It is always fascinating to see what a little person they have grown into. Leila has become an incredibly sweet lady, very inquisitive but calm. And very photogenic! The photo shoot went very smoothly with multiple changes of settings and outfits. Leila's mum and I both have a keenness for a clean neutral feel for the photo sets; she has brought in gorgeous outfits she has prepared based on our pre-shoot discussion. Leila was dressed in luxurious peach and pink tutus with flower crown or hair clips while parents are dressed in light or pastel colours; in a different set all family members are dressed in a romantic sea of white. For props we have different toys and balloons of various shapes and sizes. The shoot ended with the popular first birthday cake smash, during which the baby is encouraged to interact and get messy with her first birthday cake. It was actually the first time Leila tasted cake! Leila's mum adorned the pastel coloured cream cake with fresh roses on top, which was such a simple but clever trick to dress up the cake and add another depth of texture and colour to it.
We had a great variety of photos of both the birthday girl on her own and with her parents. It will be photos among the precious collection she will inheret as she grows older.
If you are thinking of arranging photography sessions for your child's milestone birthdays or simply to capture him or her before they grow into the next stage, please do get in touch.
To see more of Belle Photo Journey's baby portraits or family portraits, please click here.