What happens before, during and after a studio baby photo shoot?
Are you considering a newborn baby photo shoot and wondering what is involved in the session? Let me take you behind the scenes...
Before a newborn baby photo shoot
Similarly to all my portrait photography sessions, I start with a pre-shoot consultation over the phone. Having portrait photos taken is a very personal experience, and it is always nice for us to get to know each other a bit before meeting up in person! When it comes to baby photos there are also more practical considerations to chat through such as the recovery of mum, siblings joining the shoot, baby's feeding patterns, etc. I will give you a full rundown on pre-shoot preparations so you won't feel lost on the morning of the shoot!
Setting up for the photo shoot
I will be setting up the studio ahead of you coming in, so all the time will be devoted to you and your baby once you are in the studio. Varieties of fabric backgrounds and props will be pre-arranged and laid out carefully. You will find multiple stations in the studio set up for creating different looks and effects. I often place hidden layers among the set-ups to ensure upmost comfort and safety for the baby!
During the photo shoot
I advise all of my clients that the photo shoot may take up to 4 hours. While it may take less time, it is a day where we will be led by the baby and we would not want to feel rushed. Settling babies and putting them to sleep quite often takes longer than the actual photography itself; and it is when the babies are asleep that I can curl them up and put them into those cute and cuddly sleepy baby poses.
Quite often when babies stir they may look for comfort and hence a feed; if your baby is bottle-fed (or mixed feeding) I suggest to bring extra milk with you as a backup. Once the baby is settled (or while I am swaddling him or her), it will be your opportunity to relax on the sofa and have some tea or refreshments! The first few weeks of parenthood is always exhilarating but also exhausting. It is always nice to have a moment to recoup and re-energise while someone else is handling your baby!

I carefully place the baby into a variety of poses and adapt based on the props, taking a range of photos for each pose. You may ask: "What baby props should I bring into the shoot?" My answer is: Bring anything that is sentimental to you or your family which you would like incorporated into the photos. Otherwise, you can leave the props with me. I often prefer to photograph babies naked, which best reveal their tiny features and chubby baby fat, and adorn with a variety of hats, wraps and cuddly toys. If you view my baby photo gallery, my style of newborn baby photos is relatively natural, and my props reflect that accordingly. The baskets, boxes and bowls I place babies in tend to be in natural materials, such as wood and straw. The background fabrics, woven hats and wraps are in a selection of neutral and pastel colours.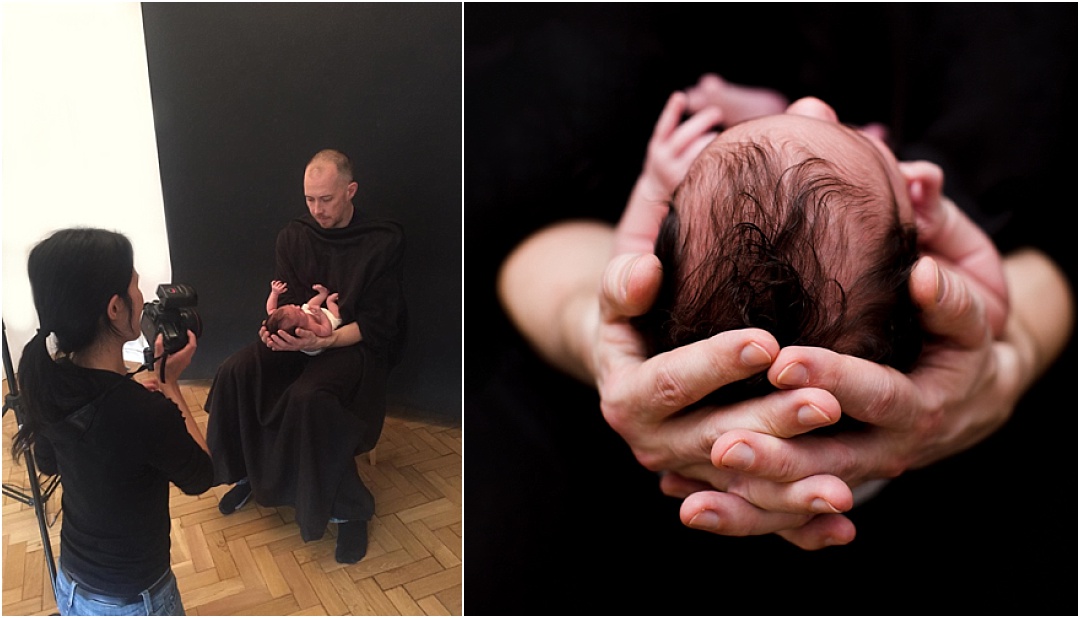 The parents' shoot with the babies tends to take place last, as it does not matter whether the babies are asleep or awake while being held by the parents for the camera. If the babies have been in the photography studio through a couple of sleep cycles, they may choose to stay fully awake by then! If you have other children who would be joining us for the shoot, we will discuss in our consultation when is the best time for them to join us. It is a big ask for young children to sit through the full duration of the newborn shoot!
After the photo shoot
Once the props and set-up are dismantled and cleaned, I will move onto the editing part of the photo shoot. I always advise parents not to worry about spots, dry skin flakes or patches, as they can be removed during the retouching process. Other 'magic' touches include removing stains, fabric creases, the odd stray hair. Also, sometimes a photo set-up involves some specific tricks and that can only can be completed in post-production! I prefer photos to look natural and realistic; it is not my style to heavily retouch the photos so they look substantially different from what is seen in camera. However, I do enhance the pictures slightly to make them look as pleasant as possible.
Viewing the photos and choosing images
Hurray, the photos are completed and we meet again in the studio! Normally we will have the viewing session arranged towards the end of the photo session. Most people enjoy seeing the photos on the big screen and find it helpful in choosing the images they like. Now is the time for you to decide on what images or products you would like to purchase, once you have seen them spring into life. My packages keep the session fee and images separate so there is no prior commitment apart from the initial session fee.
Want to know more about my new born and baby photography? Please read more here.