A beautiful micro-wedding at the Trafalgar Tavern, Greenwich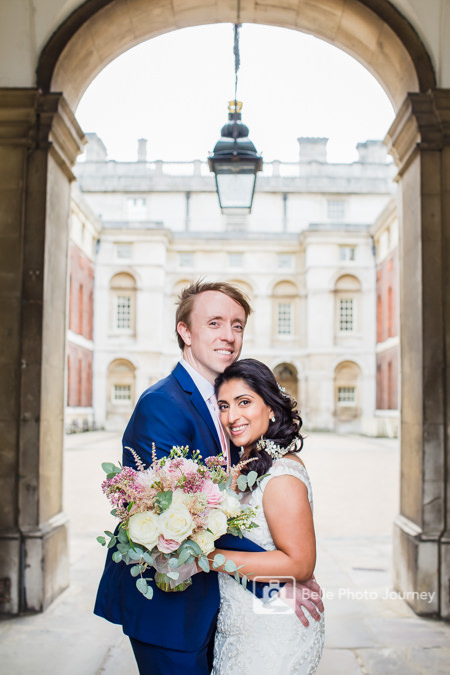 2020 is a year full of uncertainties, turns and surprises. For the couples who were meant to tie the knot this year, they faced a lot of anxieties and last-minute decision making. However, this does not take away their longing for the day and the strong bond between the two people.
I met our wedding couple Anureet & Fin in a couple of meet-ups before their big day. They strike me as an absolutely fun loving couple and full of life. I loved hearing Anureet's story of how they met (and Fin's version how he could not remember, shared below) and their plans for the London and Indian weddings.
Came the news of the pandemic and all celebrations were suspended. Anureet and I were in constant contact to explore possibilities as to when the wedding should be rescheduled. With weddings finally allowed in Aug though with a restricted guest size of 30, the couple decided to proceed with an intimate wedding (also now frequently referred to as micro-wedding) at their hand-picked venue, Trafalgar Tavern, at the end of summer. The bigger celebration would then take place the following year with the full guest list.
There were a few adjustments to the day due to the limitations. The bridal preparation took place at the same venue before guests arrived; the total group size was limited to 30; everyone apart from the couple and the registrar had to wear masks; there were neither wedding breakfast nor speeches following the ceremony. However, the joy for the day was not discounted in anyway. We saw the immense happiness of two people in love coming together, and the occasion much treasured by those who could attend. Those who could not attend physically attended through the zoom online broadcast. And after the ceremony and some wedding portraits being taken, the couple were joined by the guests at an informal lunch at Trafalgar Tavern overlooking the river.
Thank you so much Anureet and Fin for sharing your special moments with me! I look forward to part two of the celebration when circumstances allow.
Their lovely wedding is now also featured in UK wedding blog Plans and Presents:
https://www.mrspandp.com/real-wedding-features/a-beautiful-intimate-wedding-in-london-at-the-trafalgar-tavern/.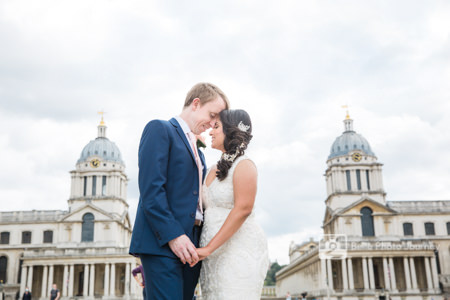 I would also like to share the couples' stories in their own words:
Anureet:
At the Henley Regatta 2017, not during the event but after party hours. It was 3 am on the dance floor of this bar turned club called Magoos in Henley. Fin used to row for York University and had his rowing blazer on. One of my mates thought he rowed for Cambridge and asked him which year in Cambridge did he row. He corrected her and they got talking, and as I was with her on the dance floor she introduced us. The rest of the night was a blur as had been a long day out, didn't even recall us swapping numbers! The next afternoon got a text and it was Fin. The rest, as they say, is history!
Finbarr:
Pretty much what she's said. I really don't remember how we swapped numbers that night!
Anureet:
When I was almost falling asleep on a rainy night after a pizza and half a bottle of wine, Fin tells me he got something for me from Ireland where he has been a couple of weeks ago.
Finbarr:
Picked her at her most vulnerable, no way she would say no!
How Covid changed your wedding plans...
Oh massively!
We had to change dates from May to August during lockdown in the hope by August things would be better but with August approaching we knew it was best to postpone any big celebrations to next year in the hope of better times!
We were grateful though that when we did it we were allowed a 30 person reception which is not the case now.