How to Choose Your Ideal Wedding Cake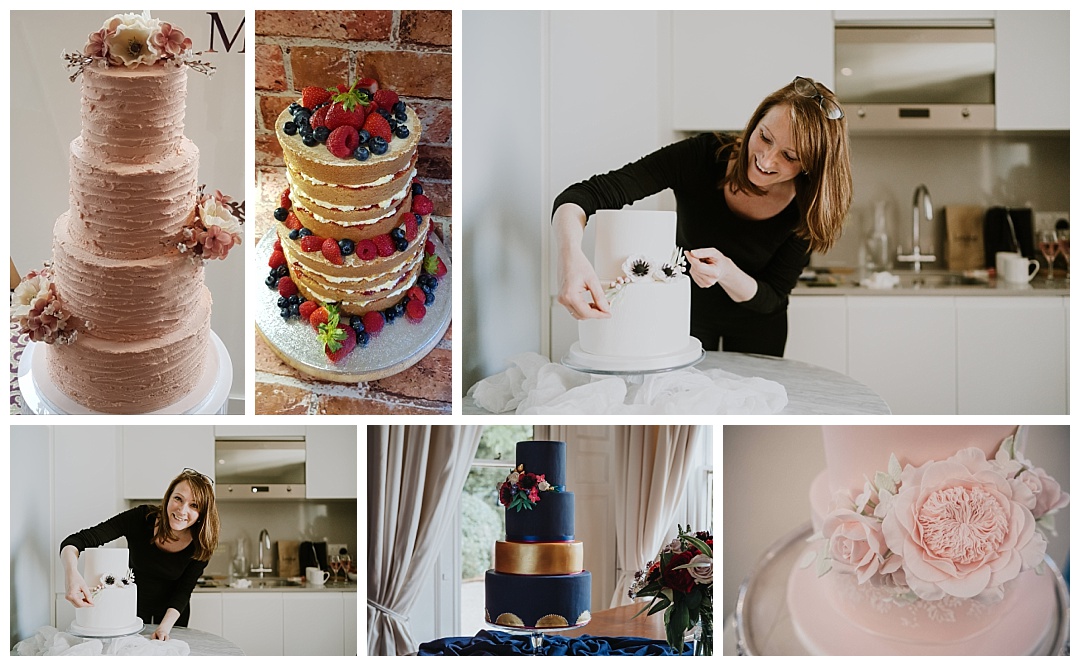 Guest blog post from Irresistible Cakes
We have Angie and Heidi from Simply Irresistible Cakes London demystifying wedding cakes for us! Read on to learn about everything you need to know about wedding cakes in your wedding preparation.
Why are wedding cakes so "expensive"?
Well contrary to popular belief, it is not because the price has been inflated due to it being for a wedding!
A wedding cake is so much more than just your average sponge cake. Your wedding cake is a labour of love created by your cake designer. When you ordering a bespoke cake from a wedding cake designer that you are receiving a totally personal service from start to finish, and you can trust that your designer will be using top quality ingredients for best taste and appearance. Your wedding cake maker / designer has spent many years honing their baking and artistry skills before you meet them in person. And for you own bespoke masterpiece, many hours will be spent in planning, making, baking and decorating, plus the finale of skilfully assembling it at the venue. Easily a total of 50 hours, if not more, will be spent altogether.
Developing the idea of your dream cake
A lot of work goes into planning a wedding cake long before flour and butter are rolled out for the actual baking.
Usually there will be initial email contact or a meeting via a wedding fair to talk about your ideas and/or budget. Please bear in mind that as a wedding cake is designed especially for you, your cake designer will only be able to give you a guide price after a full consultation has taken place. Any small details can affect the requirements, and things that appear deceptively "simple" can sometimes be very time consuming. For example, some delicate sugar flower design can a fair amount of time to make. If you desire a luxurious cake covered in lots of sugar flowers, they could be reflected in the prices accordingly.
Cake tasting and consultation
If you would like us to get involved in developing your dream wedding cake, we will suggest booking a full consultation with us. And here the tasting begins! Ahead of the consultation you will choose flavours you would like to try – up to 4 flavours with us. Your cake designer will then typically spend a full day baking, splitting and filling cakes ready for you to taste. Most consultations take approximately an hour during which time you will discuss all elements of the day you have planned, how you would like the cake to look, how this will complement your theme, where the cake is to be displayed and of course the number of guests and how the cake is to be served – whether it will be used for dessert after a meal or if it will be served in the evening with the buffet – as this will affect the amount of cake you need (more to follow regarding cake size).
The consultation generally takes places at our kitchen in London SE6, and we would accompany your cake tastings with bottomless teas!
Most cake designers charge for their full consultations; we charge £25 for ours and it forms a fully redeemable credit against your cake order if you decided to go ahead.
After the consultation, your cake designer will start work on sketching a design that is perfect for your day and then get to work out the costing for you. You will then receive the proposal and sketch for your approval.
...And then work can start on the cake in the lead up to your wedding date!! Things like sugar flowers will be started several weeks before the delivery date and they are incredibly time consuming, but the finished articles are so worth it!
How to decide on a cake design
So, you've looked through Pinterest, google and others for wedding cake trends. You typed in a particular theme (say "a rustic Wedding cake") in your search and the returned results are ... overwhelming!!?
Many parts of your wedding day are bespoke and personal to you as a couple and so should be your wedding cake... You can take inspiration from anywhere, whether it is your colour scheme, a design that's been used on your invitation, lace from the bride's dress or flowers from the bouquet. The choice is yours and there really is no right or wrong.
The first thing to consider is the type of covering you would like – sugarpaste (also known as fondant icing) buttercream or semi-naked / naked cake – the latter 2 work really well for a more rustic setting, once decorated with fresh fruit or flowers they look absolutely stunning! Buttercream cakes work well in both a rustic and a more formal setting, you can have them smooth or textured, decorated with flowers (you could consider artificial, sugar or fresh).
Sugarpaste or fondant covered wedding cakes work well for all settings, smart and elegant, you can have texture, piping, flowers or fruit, they are simply beautiful!
There are practical considerations too.
The area the cake will be displayed – for example, if you are displaying your cake in a huge ballroom, you will need to consider a larger cake so that it doesn't get lost in the large setting – you could consider dummy tiers if you would rather not eating cake for months!
Consider the time of year that you're getting married – for example, if it's in the summer then it could be hot. Make sure your venue have air conditioning if you are thinking of having a buttercream cake so you don't end up with a melted cake!
What wedding cake flavours to choose?
You will want your cake to taste as amazing as it looks! Some of the evergreen wedding cake flavours are vanilla, lemon and chocolate. The most popular flavour from our kitchen is our delicious salted caramel, closely followed by zesty lemon and Victoria. Luxury fruit cake is also popular!
How much wedding cake is needed?
As mentioned earlier, the size of the wedding cake is dependent on the number of guests and how the cake will be served.
Typically, wedding cake coffee/ buffet size slices are 1"x1" x the depth of the cake (ours are 5" deep) however, if you are serving your cake as dessert you will need to allow for twice as much cake as these servings are usually 2"x1" portions.
Here is a basic size guide for tiered cakes, but your cake designer will be the best person to advise you based on your individual needs:
A 2-tier cake will be sufficient for 50 guests having coffee portions
A 3-tier cake can serve between 80 – 140 guests
A 4-tier cake is perfect for a wedding of 140+ guests.
Our wedding cakes start from £375 for a simply decorated sugar paste covered cake. Please see our website for basic price guide for other types of cake design.
To order your ideal wedding cake
I hope this guide is useful for you to understand the behind-the-scene processes behind your wedding cake making and help you with deciding on what wedding cake will suit you. We hope to bring to you a truly stunning centrepiece of your celebration, which will undoubtly become one of the most talked about and photographed elements of your wedding day.
If you would like to get in touch with us to discuss the wedding cake of your dreams, please drop us a line or give us a call – we'd be delighted to help!
We are based in South London, covering all of London, Kent, Surrey and beyond.
www.simplyirresistiblecakes.com
enquiries@simplyirresistiblecakes.com
Angie 07971 506 199
Heidi 07894 158 488
I hope this guide will be useful in deciding what wedding cakes suit you in your wedding planning. And if you would like to know more about the host of this article and her wedding photography, please click here.