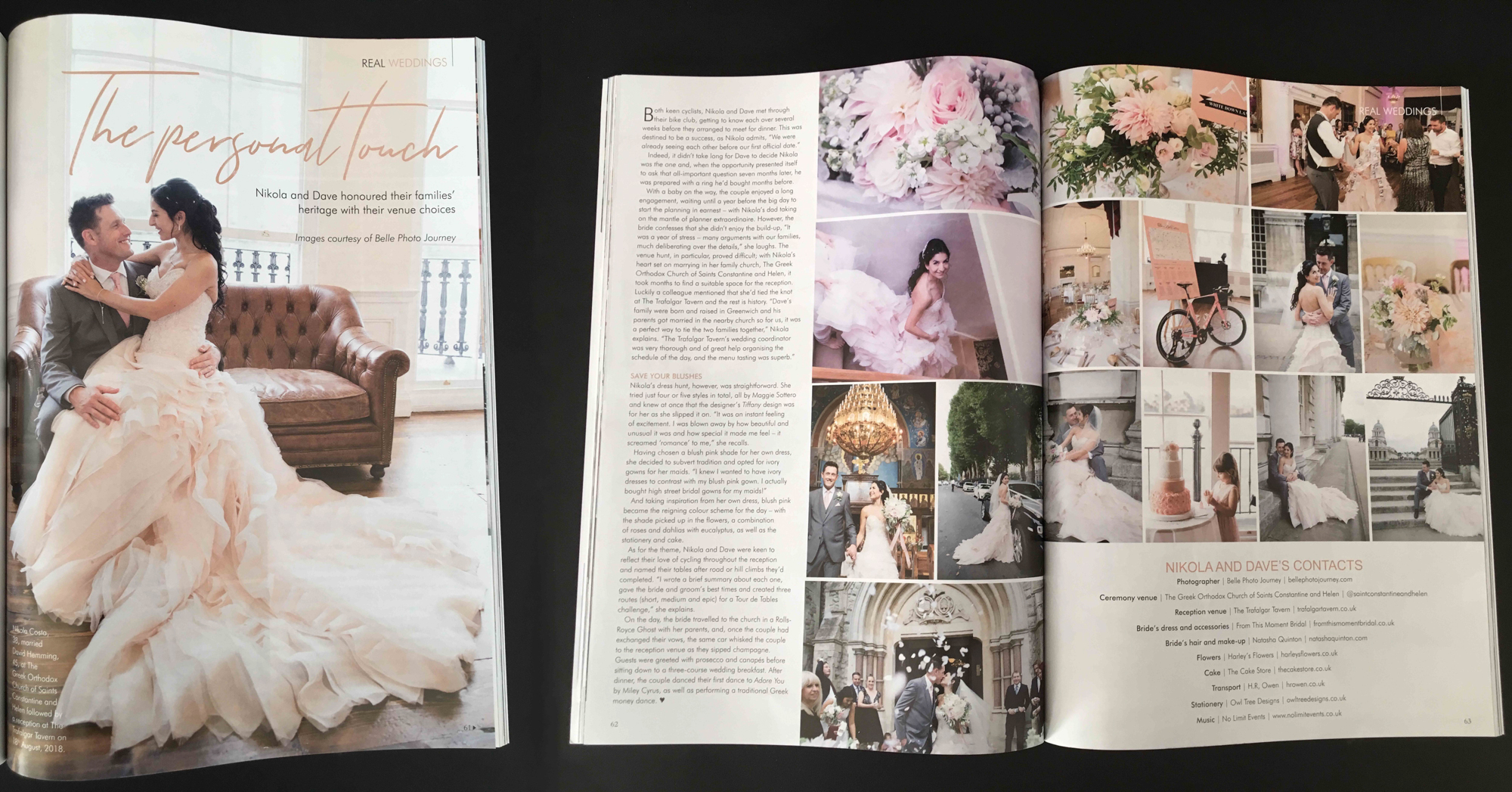 The wedding photos of our lovely couple Nikki and David Hemming have made it to the Your London Wedding Magazine Nov / Dec 2018 issue as the Real Weddings feature!
This is the second time that Belle Photo Journey has been featured in the magazine - our photos were on the front cover and special feature of Jan / Feb 2017. We have also been finalists in the magazine's Weddings of the Year competition.
The wedding bell for Nikki and David rang in August earlier this year, with the couple declaring their love and commitment to each other at The Greek Orthodox Church of Saints Constantine and Helen (the family church of the bride). Nikkie and David celebrated with friends and families at the Trafalgar Tavern in Greenwich, an area the groom grew up in and close to his heart.
I am a preferred photographer for Trafalgar Tavern weddings and love this hidden gem for weddings in London. It has everything one can wish for as a wedding venue – historical settings, spacious rooms, waterfront location, scenic spots for wedding portraits nearby, and incredibly convenient transportation link in the heart of London. Oh, and the food and staff are absolutely lovely too!
When I arrived at the parental home of Nikki's for the bridal preparation shoot, the house walls were stripped free of wall paint as the home is in the middle of decoration. It turned out to be a perfect canvas for photos, as I told Nikki and her mom Catherine – it is a shabby chic setting that could have taken immense effort to dress up for. Behind the door of Nikki's room was the magical Maggie Sottero dress that screamed 'my dream dress', with endless layers of tulle, sweetheart corset top, delicate beadings, and a long train – and it is blush pink in colour! Nikki also cleverly reversed the traditions by dressing her bridesmaid in white.
Time easily got lost photographing the candid moments throughout the events of the day, as well as the wedding portraits and family group photos at or near the venue. As the lights dimmed at night after the cake cutting for the first dance, fun loving guests joined the dance floor in their dancing shoes. There was even a dancing pram in the room! Neither the action, nor my camera flashes, stopped there. The traditional Greek money dance came on later in the evening, where guests came up to dance with the couple and pinned monies onto the bride and groom's outfit under the traditional Greek wedding music. Click, Click, Click! I have to say as a photographer I had as much fun as the guests!
Thanks Nikki and David for having me as the wedding photographer of your fabulous wedding, and Nikki's parents for getting in touch!
To see the pictures up close:
All content ©Belle Photo Journey